Kaori Saito is the childhood friend of Tenchi Takahashi in "Legend of the Otaku." She is a senior at Kōsaten High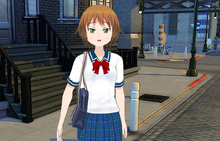 School, in the Fukui Prefecture of Japan.
Fictional Biography
Kaori is the only child of Genma and Akani Saito, born in the town of Kōsaten on the northern coast of Japan. Sadly, her parents died in a car accident when Kaori was only 5, leaving her in the care of her maternal grandmother.
She lived next door to Tenchi Takahashi throughout their childhood. She would often defend young Tenchi from being beaten up by bullies.
A natural athlete, Kaori is the star of the Kōsaten High School softball team. In the off season, she is also on the swim team and runs cross-country as part of the track and field team.
Kaori is also an amateur chef.
While she enjoys hanging out with Tenchi, she is not a fan of anime, manga, or video games.
Powers and Abilities
After bonding with a brawler transdimensional tap crystal, Kaori developed super strength. She often wields a magically-reinforced softball bat, capable of crushing rock and rending metal.
Community content is available under
CC-BY-SA
unless otherwise noted.