Goro Asakura is a a senior at Kōsaten High School, in the Fukui Prefecture of Japan, and (male) best friend of Tenchi Takahashi.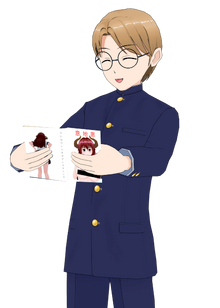 Fictional Biography
Goro was born and raised in Kōsaten, Japan, attending school with Tenchi and Kaori Saito since they were children. Like Tenchi, he is a fan of anime, manga, and video games, though his tastes clearly lean toward ecchi harem series. He is a fellow member of the Kōsaten High School Anime Club with Tenchi and Michiko Sawada.
For what he lacks in social graces, Goro makes up for in technical proficiency. He has been building MechaBattler fighting robotics kits since before he was in middle school, with an advanced knowledge of mechanical and electrical engineering. Other than Tenchi, Michiko, and (to an extent) Kaori, Goro has few friends and is frequently bullied by Chikao Ijimekko and the KoKo Gang. His dream is to someday build a sexy android as both a companion and bodyguard.
Powers and Abilities
<Not yet revealed>